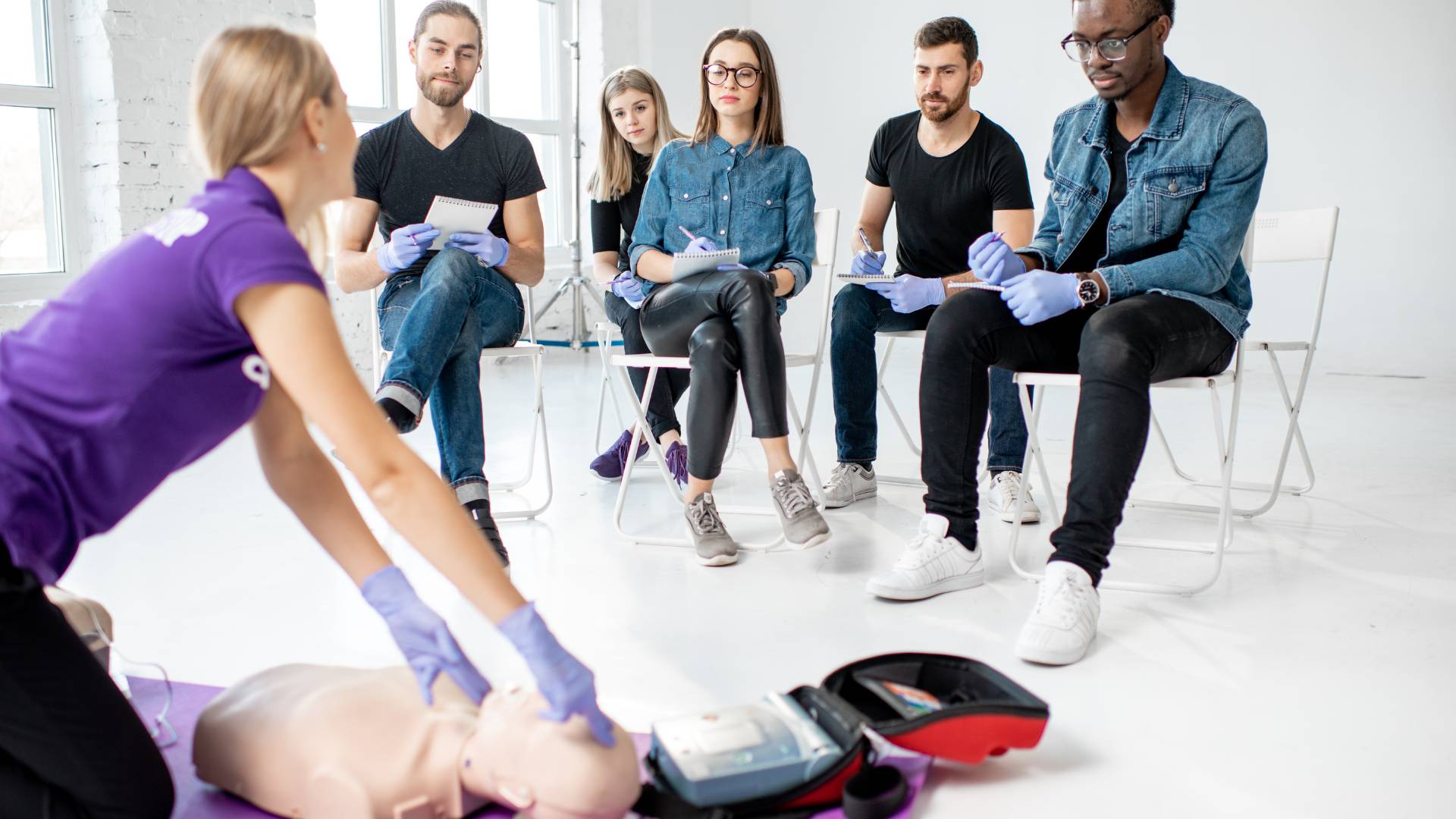 Have you ever witnessed someone suddenly collapse and stop breathing? Such a terrifying experience can happen to anyone and dealing with it can be a challenging task. However, if you know how to perform CPR, you wouldn't simply stand by as an observer.
Time is of the essence in the case of a cardiac arrest. Every year, over 350,000 cases of cardiac arrest happen outside of hospital premises, making CPR an essential skill for the general public.
Ranging from basic to advanced CPR, there are different levels of CPR training, each with its own set of skills and techniques. That said, we'll discuss what are the different levels of CPR training, so get ready to learn about the power of CPR, and how it can help you become a true lifesaver.
Introduction to CPR and Its Importance
CPR or Cardiopulmonary Resuscitation is a technique performed when someone's heart stops or they stop breathing. If we don't take immediate measures, cardiac arrests can lead to unnecessary deaths.
Most cardiac arrests happen in households, and it's not always guaranteed that a health care provider will be available to respond. Unfortunately, only 40.2% of laypeople in the United States have initiated CPR in out-of-hospital cardiac arrests. That's why it's important to note that even as a layperson, you can contribute in such a life-or-death situation.
Simply put, CPR is important because it has the potential to save lives. When a cardiac arrest occurs, the patient's heart cannot pump blood effectively, and CPR can imitate the heart's function to pump out blood throughout the body. If administered timely and right, CPR can significantly increase the likelihood of a person's survival.
Be careful to differentiate between the terms cardiac arrest and heart attack, as performing CPR on a person having a heart attack won't do them any good. You should call 911 instead because they require urgent medical attention.
Despite the fact that CPR has existed since 1740, many Americans still lack the knowledge of how to perform it, and the most common reason why someone would hesitate to perform CPR is the lack of knowledge.
Now you know how important CPR is and how you can literally provide others with a second chance at life. Let's move on to what are the different levels of CPR training and help you choose the CPR training that's right for you.
Exploring the Various Types of CPR Training
There are several types of CPR training tailored for specific audiences and different situations. Each has its own unique complexity, technique, and focus, and provides options for both individuals and groups to receive specialized training.
CPR in Schools
CPR in schools enables students and teachers to learn about basic-life techniques. The goal is to provide them both with enough knowledge and skills to respond effectively in emergency situations, making schools an even safer place.
The American Heart Association offers ''CPR in Schools Training Kits, which allow students to learn basic life-saving techniques in just one class. Not only that, but the class also provides AED and choking relief.
Besides that, the American Heart Association has developed ''CPR in Schools: First Aid'', which is intended for both middle and high school students, as well as for teachers and staff.
The American Red Cross, on the other hand, has designed CPR programs for schools that allow teachers, administrators, and other staff to become instructors. These programs train academic staff to be capable of providing the same training for the students and the facility.
Workplace CPR
This training is designed specifically for the workplace to teach employees to respond in emergency situations. The American Red Cross provides flexible on-site training solutions that include blended learning training for First Aid, CPR, and AED. You'll be provided with a certification as a reward for completion.
The American Heart Association has designed the ''Heartsaver Virtual,'' a 100% virtual training consisting of a training kit and app solutions. You'll participate in a virtual hands-on skills session with an instructor to prepare you for real-life situations.
CPR for Healthcare Providers
With the American Red Cross's CPR for healthcare providers, they can always provide their patients with the help they need. These courses are designed to keep healthcare providers up to date with the latest techniques and include CPR, Primary Assessment, Ventilations, Choking, and AED.
On the other hand, the American Heart Association provides several courses for healthcare providers, such as Pediatric Advanced Life support and Advanced Cardiovascular Life Support.
While the above-listed CPR trainings are essential, there are other types that can benefit individuals and the community. These include Family and Friends CPR, Pet CPR, Wilderness CPR, and muli-victim CPR.
Understanding the Various Levels of CPR Training
While the types of CPR refer to the specific context or situation in which CPR is performed, the levels of CPR training refer to the depth and complexity of the training. Understanding these levels can help you to easily choose the appropriate course for your needs.
CPR Training Level A
CPR level A is basic and designed for adults who usually require basic CPR skills for personal knowledge. This level covers the below-listed subjects.
Identifying the symptoms of a cardiac arrest
Basic techniques such as chest compression and rescue breathing
How to use the automated external defibrillator (AED)
Level A is a suitable choice if you work in a low-risk environment such as an office, school, or retail store. Despite it being a short course that can be completed in a few hours, it will still provide you with sufficient knowledge on how to cope with medical emergency situations.
CPR Training Level B
This course is specifically designed for those who want to acquire CPR knowledge that's applicable to infants and children. It consists of specific techniques and considerations compared to those for adults, as the bodies of children and infants are smaller and more fragile.
According to research, children and infants who receive CPR are three times more likely to have better survival outcomes. Every parent, grandparent, or childcare worker is suitable for this course and will be certified upon completion.
CPR Training Level C
CPR level C is considered more advanced and professional, as it integrates all approaches from A, B, and C courses, that is, adult, child, and infant CPR. It is best suitable for lifeguards, healthcare providers, police officers, and firefighters.
Besides practical skills, the training might include performing chest compressions, rescue breathing, and providing care for choking victims. Upon completion, you will be certified to handle almost every emergency situation.
Essential Steps for Performing CPR
Whether you've completed a course or not, knowing how to react in a life-and-death situation is vital. That said, let's look at the essential steps required for performing CPR.
Check for responsiveness. If you ever find yourself in a situation where a person collapses in front of you, ask them if they're okay. Immediately call 911 in case they don't respond.
Check if they're breathing. Proceed with performing CPR if the patient isn't breathing.
Perform chest compressions. Center your hands on the person's chest, make sure your elbows are locked, push down at least 2 inches at a rate of 100 to 120 per minute, and provide them with two rescue breaths.
Continue with the procedure. Don't stop the procedure before medical help arrives.
CPR can be a daunting task, but attempting to provide it is always better than not attempting it at all. These steps can be easily forgotten if you're not using them for long, so you can print them and use them as an occasional reminder.
Finding the Best CPR Training Course
If you're struggling to find the right level of CPR training for you, you should start by evaluating your personal goals and needs. Are you looking to gain basic CPR skills, or do you need more advanced training?
The American Red Cross and the American Heart Association can assist you with finding the right training course for your requirements. However, make sure the courses fit your schedule and are located near you.
In conclusion, CPR is a must-learn technique for every individual. Whether you work in low-risk or high-risk environments, possessing that type of skill can help you cope with emergency situations. No need to wait more. Find the course suitable for you and enroll today!